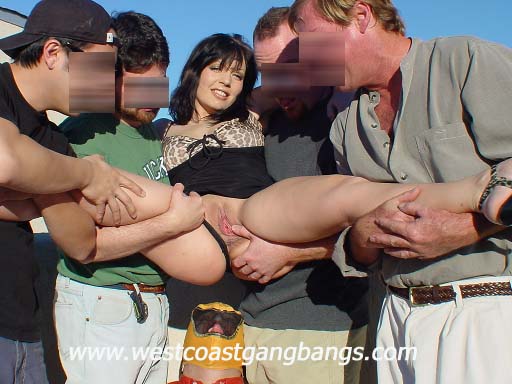 Are you a woman interested in a gangbang? if so, you have come to the right place. We are the WCGB group and we put together parties for women in the California area. As long as you are over 18, attractive, and horny I can get something together going for you. We are all clean, tested, respectful, educated, and understand that this is about a woman enjoying herself by making her sexual fantasy cum true. Alternatively (especially if you are not in California), you can visit http://www.gangbangqueens.com and join a gangbang party in your area, it's free to join and browse for women, men and couples interested in this lifestyle.
If you are new, it's ok too. I make sure women are 100% comfortable before committing to anything. That's why I speak to you on the phone and/or meet you in person first before going to the next step. Also, keep in mind that we can do this off camera as well as on camera. Despite the fact that you found this page on a "porn site", this group has always been a swing group and the guys involved are all friends. I have been helping horny women with their sex fantasies since 1999, so I know very well what I am doing.
There are certain things you should know;
We are all straight and we do not have any "bi sensual" activities for men, so don't even ask me.
We don't charge to set up parties, this is not a commercial enterprise
I will arrange parties only for reasonably attractive women
I have African American friends that I can invite to the parties, but I don't set up exclusively interracial gangbangs.
With that said, you can still put together your own party by posting in our free forum.
So if you are a woman who is curious, send me a note to. Expect me to confirm your identity as a woman either by webcam or phone as I get too many guys who like to pretend to be women.